Your Neighbourhood in Bloom 2021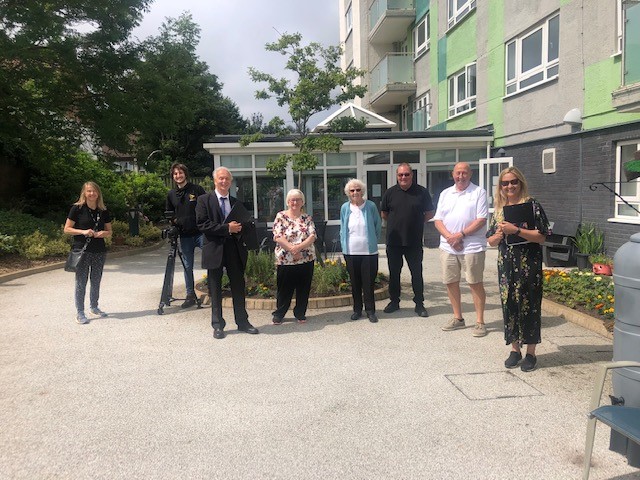 Our Community Regeneration Team, Environmental Services Team and Wirral Borough Council have been working with some hard working Magenta Living resident gardeners to help them keep their communities looking great and blooming with flowers and wildlife.
The entries from our residents this year really impressed the Royal Horticultural Society judges for their 'It's Your Neighbourhood in Bloom 2021' national award and the weather didn't disappoint either nor did the gardens, which were truly amazing.
Read more about each community below…
Prenton Dell
Volunteers including Alan and Lesley have once again been working hard to brighten up the Prenton Dell Neighbourhood. This year's work builds on previous award winning efforts in recent years and they have done an incredible job within their community.
Our Community Resource coordinator, Adam Woodcock commented "It's wonderful to see the hard work of our volunteers being paid off with fabulous displays and lots of positive comment and feedback from the wider community. We were delighted to be able to support this area with Community Grant funding and the money was truly well spent."
Brackendale
The judges were so pleased that Dave and Pat, Champion gardeners, took their advice and made all the improvements highlighted on their last visit. They're growing more fruit and veg which is harvested and left available for residents to help themselves to. They have introduced the new sensory garden which is all about stimulating the 5 senses and encouraging residents to be more aware of their surroundings.
So much hard work has gone into this garden. Pat said " I'm 94 and I still love gardening it's great for the mind and body and keeps me fit and active. It's a pleasure to get the garden ready for my neighbours to enjoy again now that the gardens are open again safely for them to all enjoy."
Sunningdale High Rise
Pete, the resident gardener, gets support from Kevin the Site Management Officer so he can keep on top of the garden and keep it looking lovely. It's an old fashioned cottage garden theme with lots of old favourites growing like hollyhocks, hydrangeas and foxgloves.
Everybody at Sunningdale really appreciates the hard work put in by Pete and Kevin so they are able to enjoy the view from their balconies and the pergola seating area.
Egremont
The Voice of Egremont street gardens and railing planters looked fabulous with so much colour splashed about the area.
Maria, Chair of the group said " since we started the group we have so many volunteers who want to help and improve the area where they live. Its been a behaviour change for so many because environmental crime has reduced considerably. We get cars tooting and waving at us as a thank you. We all love what we do and if we can win prizes for our hard work that's even better. "
Liscard House high rise
Bill and Dina are hoping to get the Garden of Excellence Award again this year with their with their spectacular displays.
Bill said "the weather has been against us this year but we were able to plant what we could safely ready for our neighbours to enjoy once restrictions are lifted. We have everything crossed that we can win the top prize again, the judges give nothing away but they took lots of photos and made many notes so we are hopeful."
Bidson Rise
Donny's Way, the before and after pictures speak for themselves on this scheme it's such a breath-taking transformation. Karen, a volunteer gardener said "I've grown everything from seed. All the plants are mainly pollinators attracting birds bees and butterflies. To help combat climate change through natural regeneration from seeds we need more pollinators to do that. Working on Donny's Way really has kept me sane during lockdown and my friend Jean and I can now sit with a coffee outdoors and enjoy the lovely garden together."
Jean said " This has been all Karen's hard work and we can't thank her enough for what she has done here. Everybody young and old really appreciates the effort that has gone into this garden, its great convalescence for me to sit, relax and enjoy this little plot in the sunshine."
Fantastic work has been done by all who are involved, good luck and well done on your gardening efforts!